Studium Academy of Casale Monferrato for Art, Literature, History, Science and Various Humanity Studies, I have become an academician.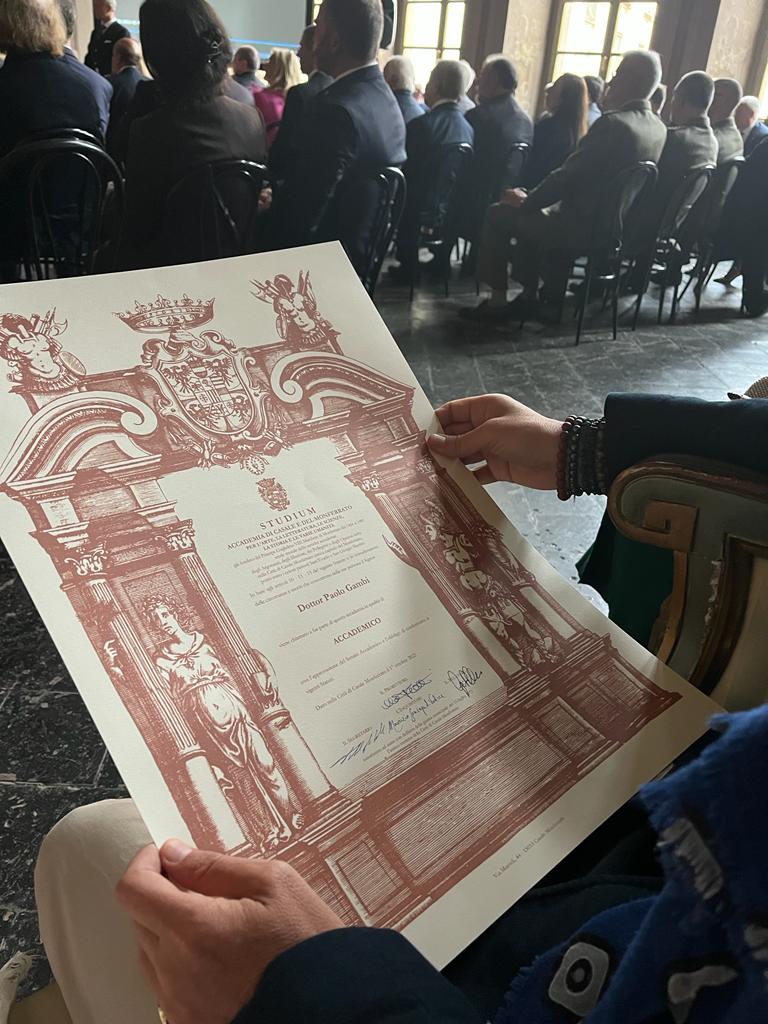 The honor for me is immense, this incredible institution, founded in 1476 by the Marquis of Monferrato William VIII Paleologus, has counted and counts among its members heads of state, Nobel laureates, crowned heads, personalities such as Eugenio Montale, Mario Luzi, Ignazio Silone, Jacques Le Goff, Giovanni Spadolini, Sandro Pertini were academicians of it, in fact I wonder how I ended up there.
Suffice it to say that the session opened with the announcement that the Academy will give and award to the Nobel Peace Prize and President of the Republic of East Timor José Ramos-Horta in the coming months.
I would like to thank Pier Felice degli Uberti, who in calling me to accept the scroll before that distinguished gathering said, "Paolo Gambi is a famous writer and poet. A person who still remembers and knows how to behave in an Academy, and I really want to show you that."
After that, a video poem of mine dedicated to the Studium Accademia di Casale e del Monferrato was projected on the big screen, or rather, as it says:
Unexpected Spring of Tradition – a post-contemporary poem by Paolo Gambi – gift to the Studium Academy of Casale and Monferrato for Art, Literature, History, Science and Various Humanities on the occasion of the admission
Here is the full version in high quality:
Text:
Unexpected Spring of Tradition
From the eternal past they sprout
-sprout, appear, glow, they glow greatly –
swords, crowns, armorials
And noble burdens.
Progress runs on electric roads
Feet sink into memory
Remembrance, privilege of a few –
Reflections of traditions in transparency
Fragrance of history in nostrils
The glow of memory
Is not crow singing of death
But swift of unexpected spring.
The parchment was presented to me by Pro-Rector Loredana Pinotti and the Honorary President of the Academic Senate, HRH Princess Maria delle Nevi di Borbone Parma, in the presence of, among others, H.M. Yuhi VI, King of Rwanda, the President of the Real Asociación de Hidalgos de España, H.E. D. Manuel Pardo de Vera y Díaz, the representative of the Royal Family of Portugal, and many other civil, economic and cultural authorities.
A special thanks to Gabrielle Carter.